We are closing off our store. Thank you for your support and we apologize for any inconvenience.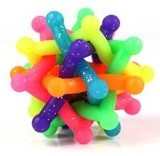 The Intelligent Twister
$9.95
This super bouncy toy will definately excite your dog. It's interesting shape makes this bounce unpredictable and keeps your dog entertained for hours. Live up to your pooch's play needs and try this toy. You will be amazed. Ideal for small to medium dogs.
Description
Made from molded, nontoxic plastic for durability.